Archaeological Digs: The City of Mahabalipuram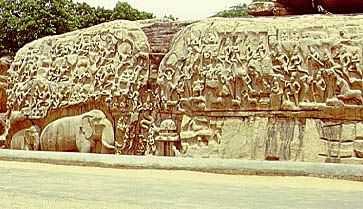 Under the reign of Narasimha Varman in 630 A.D., seventh century India saw the rise of one of its most spectacular seaport cities. Popularly identified as the mythical city of Mahabalipuram, this site on the coast of South India rose to prominence as a great artistic center, with beautiful cave temples and gigantic open air reliefs carved from blocks of granite. Its remains are now recognized as representative of some of India's greatest architectural and sculptural achievements. For the past three years, archaeologists have been working at the site where a diving expedition revealed evidence of what is thought to be a submerged ancient city, with at least one temple.

Now, more evidence has been uncovered in the wake of the recent deluge and destruction caused by the December Tsunami. The initial finds include some stone structures and a large granite lion sculpture, which were revealed when sand washed away under the Tsunami torrent. Investigations are continuing and new finds are forthcoming over the years ahead.


Read More