The Heraclea Lyncestis Excavation Project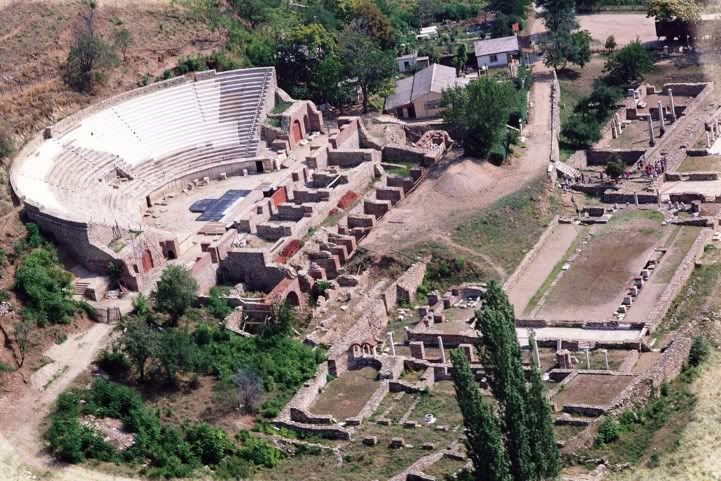 According to the Athenian orator and lawyer
Demosthenes
,
Heraclea
was founded by
Philip II (the father of Alexander the Great)
, as a strategic center of the north-western Macedonian province of
Lyncestis
. Heraclea was named in honor of
Heracles
(Hercules), the claimed progenitor of the ruling Macedonian dynasty which Philip belonged to. The epithet "Lyncestis" means "
the Land of the Lynx
" in Greek. Nowadays the ruins of the ancient city lie at the western side of modern town of Bitola. During the last half century archaeologists have uncovered and restored significant monuments of antiquity (the Forum, Theater, and early Christian basilicas and residential buildings, many of them decorated with polychrome mosaics). Season 2010 envisions excavations in two sectors: the acropolis or the area across the river (presumably Hellenistic and Early Roman), and the area around the Theater (Roman and Late Roman).

Two field school sessions are available in 2010. The program includes three modules: fieldwork; educational course (lectures, workshops and field trainings), and excursions to the UNESCO heritage town and lake of
Ohrid
as well as the ancient city of
Stobi
. Field school participants will work on random excavation sectors with the possibility to shift to another sector. Participants who join both project sessions will have different schedules during the second session - the activities in the afternoons will include: Workshop in mosaic-making, field surveys, finds processing and documentation; excursions to Pelister National Park and local monasteries will replace the standard excursions in the second session. All participants will receive a Balkan Heritage Field School Certificate of Attendance specifying fieldwork hours, educational modules and sights visited.
Detailed information
about this project is available at:
http://www.bhfieldschool.org/bh2007.hlexc.html
The online application form
is at:
http://www.bhfieldschool.org/apply.php
Periods of occupation:
Hellenistic, Roman, Late Roman (Fourth century B.C. – Sixth century A.D.)
Location:
Pelagonia, Macedonia
Session dates:
First session: July 3-17, 2010; Second session: July 18- August 1, 2010