New Smithsonian Exhibit a Big Hit
F

ew would argue with the fact that most people who walk away from a long visit at any of the Smithsonian museums in Washington, D.C., would be very favorably impressed with what they experienced. The same could be said of the Smithsonian's newest addition to its permanent exhibition spaces -- the David H. Koch Hall of Human Origins. Tucked artfully within the monumental walls of the Smithsonian's ever popular National Museum of Natural History, this exhibit presents some of the evidence that underpins the scientific explanation for how we, humans, evolved over time, focusing much of the discussion on how the earth's changing environments have played a salient role in the process. What makes this exhibit different than most museum presentations on the subject, however, is not the thematic focus, but how it is presented to the visiting public. After walking through a "time tunnel" entrance displaying the morphological milestones of human evolution, one walks into a spacious array of interactive stations designed to engage the visitor more directly in the learning process. Feel the sharp edge of a stone hand ax (cast) dated to over a million years ago. Do you see why it would be a useful tool? View a cast of a fossilized footprint made over 3 million years ago. It looks human, but you don't know for sure. The question below it on a wooden panel reads, "what made this footprint?" You lift the panel to see the answer inside -- "Australopithecus Afarensis" (an ancient hominid, or human predecessor, that lived over 3 million years ago in Africa). Would you like to see what you would look like as a Neanderthal person, a human species that inhabited Europe and Asia over 30,000 years ago? Then sit and interact with the face morphing station and watch yourself transform.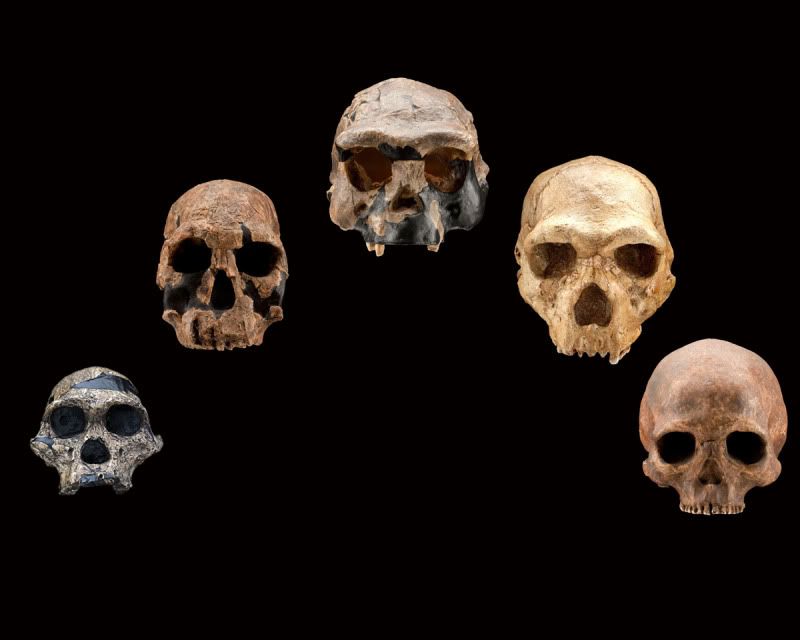 Not all of the fossilized bones and artifacts are casts. You can view an almost complete Neanderthal skeleton carefully preserved within a climate-controlled space. Currently on loan to the U.S., it was originally excavated at Shanidar Cave in current-day Iraq. Besides fossils and fossil casts like this, you can also view lifelike reconstructions of the faces of five different early species of humans, as well as beautifully sculpted life-sized bronze representations of early humans masterfully created by artist/sculptor John Gurche.
Going to Washington, D.C. for a vacation or just passing through? This would be a must-see for those interested in the distant human past; however, if it isn't in the cards for you at any time in the near future, you can still learn about it and much more on the topic of human evolution at Smithsonian's new website at
http://humanorigins.si.edu
. Either way, it is an adventure in learning.
Photo Credits: Chip Clark, Jim DiLoreto and Don Hurlbert, Smithsonian Institution