Digging at Tiberias: A Volunteer's Experience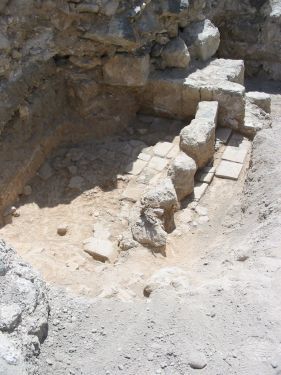 Judith Schwartz participated as a volunteer in the excavations at the ancient site of Tiberias, Israel, this Spring. Here is a sampling from her personal account of her experience.
Tiberias, Israel -- I decided this session to dig only twice a week. As a "local volunteer", digging 4 days a week for the whole month means giving up all of my activities, commitments, and supermarket visits for a long stretch. So Monday afternoon I used all my willpower and waved my dirt-covered arm and said, "See you Wednesday". (Someone else found the marble floor. (See previous post about the finds at Tiberias.) For three weeks, the dirt level in my shoes increased while my energy level was gradually reduced by digging, night lectures and trips to archaeological sites...all of which were unmissable.

Week 4 came along and Katherina casually said "We saw the edge of a floor tile as we were doing heavy digging in one area. Would you like to explore there?" I was captured heart and soul. For me, uncovering architectural features means even more than finding complete, beautifully designed, perfectly proportioned, highly decorated ceramic juglets!

Monday afternoon arrived. I had removed uncountable numbers of buckets of dirt and revealed a 3 foot line of lovely red tiles in a neat row. Should I retreat? Say "See you Wednesday?" Go to the supermarket and aerobics the next day? No way! There I was early Tuesday and Wednesday and Thursday...following tiles till they petered out, finding a tiny stretch of red frescoed wall in situ and having myself a good old time. In the balance, willpower hasn't got a chance against archaeology!
The archaeologists have a saying that the best finds are on the first and last days of the dig. This proved true in the very first session at Tiberias, last year, when the 17 foot bronze chain was found.
Spring 2005 was no exception. Volunteers were digging in the second apse of the basilica where some beautiful ceramics had been found the week before by Vanessa. The last few hours of the dig arrived. And sitting in the apse diligently digging as the minute hand crept around was Jill, painstakingly removing from the dirt one after another of amazing, complete or almost complete juglets.

The dig ended ...no, not with a bang...perish the thought... with flashbulbs flashing at the row of lovely beautifully designed, perfectly proportioned ceramic jugs that ended the spring session.

-- Judith Schwartz, Tiberias Excavations Volunteer, Kibbutz Ginosar, Israe
l

Photographs courtesy Judith Schwartz