Archaeological Tour: New Discoveries In the World of the Ancient Maya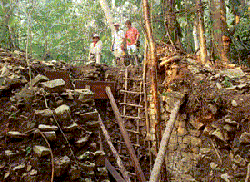 If you are not in the mood to do some digging in the jungles of the ancient Maya but you want the chance to survey first-hand some of the latest research sites where on-going excavations and investigations are being conducted, here is an archaeological tour that may do the trick. This will afford the opportunity to explore recently discovered archaeological sites in Guatemala's Peten Jungle, where you will often find archaeologists at work. You will reach many of these sites via boat on jungle rivers and lakes, and some hiking will be required. Needless to say, you will need to be physically fit. You will also need to specially request this arrangement. Here is the itinerary:

Day One
Arrive Guatemala City. Participants will be met on arrival and escorted to Hotel Biltmore Express in Guatemala City's fashionable Zona Rosa. Tour orientation at the hotel. (B.L.D.)

Day Two
Guatemala's Verapaz Region. Early drive through a tropical cloud forest which is home to the elusive Quetzal, Guatemala's national bird. Brief hike in the cloud forest to admire the flora and to look for the colorful Quetzal. As you descend from the cloud forest to the lowlands you will pass through coffee and cardamom plantations to the lands of the Maya Kekchi people. Arrive at the Candelaria Caves in time for dinner and overnight at the Cuevas de Candelaria Lodge. (B.L.D.)

Day Three
Cancuen and Its Spectacular Palace. Morning transfer via road and river boat to the Maya site of Cancuen. In 2001 archaeologists discovered a spectacular seventy-two room Maya Palace here. Excavation is still in progress. Dinner and overnight at the Cuevas de Candelaria Lodge. (B.L.D.)

Day Four
Cuevas de Candelaria. Explore the Candelaria Caves. The Maya believe these caves are an entrance to the underworld. Following lunch drive to Sayaxche for a boat ride on the Rio Pasion and across Lake Petexbatun to the Chiminos Island Lodge. Time to explore before dinner and overnight at the Chiminos Island Lodge. (B.L.D.)

Day Five
Aguateca Mayan Ruins. Perched on a high outcrop on the southern tip of Lake Petexbatun, you will see the temples of Aguateca. The site has a magical atmosphere, encompassed by dense tropical forest and with a superb view of the lake. Following lunch continue to Flores for overnight at the Hotel Peten Esplendido on the shore of Lake Peten Itza. (B.L.)

Day Six
Waka and the Mayan Queen. After breakfast enjoy the lush scenery along the San Pedro River as your boat approaches Waka Archaeological Site, which was previously called "El Peru". In May of 2004, archaeologists discovered the 1,200 year old tomb and skeleton of a Mayan queen. She appears to have been the leader of a city that was once home to tens of thousands of people. Waka was inhabited as early as 500 BC but reached its peak between 400 and 800 AD. Dinner and overnight at the Guacamaya Research Center.

Day Seven
La Joyanca. Morning scenic boat ride followed by a jungle hike to the archaeological site of La Joyanca. This Mayan city was brought to the attention of the public by French archaeologists in 2002. Return to Flores this afternoon for overnight at the hotel Peten Esplendido on the shore of Lake Peten Itza. Tonight dinner is on your own. You might enjoy walking into the island village of Flores to try one of the attractive waterfront restaurants. (B.L.)

Day Eight
Holmul and Yaxha. Visit the partially excavated site of Holmul. Continue to Yaxha with its towering pyramids and large concentration of buildings in its central plaza. German archaeologists are currently at work here. Afternoon return to Flores Airport for flight to Guatemala City. Farewell dinner and overnight at the Hotel Biltmore Express. (B.L.D.)

Day Nine
DepartureBreakfast and transfer to airport. (B.)

INCLUDED: A bilingual expert guide, all land and boat transportation, flight from Flores to Guatemala City, entrance fees, eight nights accommodations, and meals as per the itinerary. The PRICE: Standard Double $1,945; Standard Single $2240 PRICE WITH FOUR PARTICIPANTS: Double $1,597. Single occupancy: $1,844.
Mayatour: The New Discoveries Tour
For more archaeological adventure travel options, see my page on digs and tours for 2005.